Home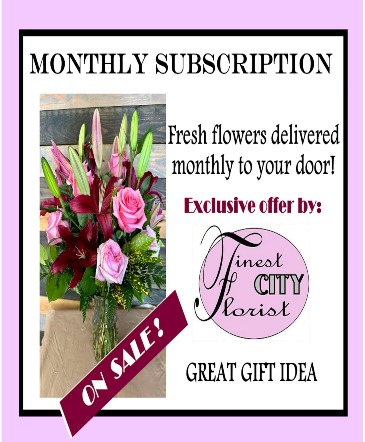 Monthly Subscription
flower subscription
Imagine receiving fresh flowers delivered right to your home or office every month! Flowers bring joy and comfort. Luxurious blooms of the freshest in season varieties and colors, hand crafted by our expert designers just for you. Most of our product is locally sourced, often from flower farms right here in San Diego county. Doesn't get much fresher than that! Enjoy a $65 value of fresh flowers every month at an exclusive discounted price. Makes a great gift!! Standard- 3 months Deluxe- 6 months Premium- 12 months
MONTHLY SUBSCRIPTION
FLOWER SUBSCRIPTION
Imagine receiving fresh flowers delivered right to your home or office every month! Flowers bring joy and comfort. Luxurious blooms of the freshest in season varieties and colors, hand crafted by our expert designers just for you. Most of our product is locally sourced, often from flower farms right here in San Diego county. Doesn't get much fresher than that! Enjoy a $65 value of fresh flowers every month at an exclusive discounted price. Makes a great gift!! Standard- 3 months Deluxe- 6 months Premium- 12 months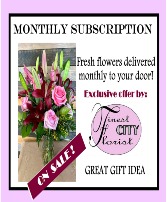 $200.00
$375.00
$650.00
MONTHLY SUBSCRIPTION
FLOWER SUBSCRIPTION
Imagine receiving fresh flowers delivered right to your home or office every month! Flowers bring joy and comfort. Luxurious blooms of the freshest in season varieties and colors, hand crafted by our expert designers just for you. Most of our product is locally sourced, often from flower farms right here in San Diego county. Doesn't get much fresher than that! Enjoy a $65 value of fresh flowers every month at an exclusive discounted price. Makes a great gift!! Standard- 3 months Deluxe- 6 months Premium- 12 months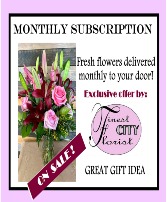 $200.00
$375.00
$650.00
Due to high demand, it may be necessary to subsitute flowers in some designs. We promise to make each order as similar as possible to design pictured, and deliver a beautiful arrangement to the recepient. Thank you for your patience and understanding.

__________________________________
Finest City Florist specializes in Weddings and Events!

Please visit the link below to request a FREE QUOTE for your wedding or event!